Occupant comfort is a leading contributor to customer satisfaction. 
We spend much of our time in our homes, offices, and traveling between them. Because of this, industries such as automotive, architecture, and aerospace are seeking better solutions for climate control. For the occupants, comfort can be a significant differentiator of whether they will purchase a vehicle, fly with a particular airline, or feel productive at work.
Our engineering team members are experts in the area of thermal comfort, including predicting cabin comfort, representing HVAC system effects, and related comfort strategies. They have the expertise to distill inputs and provide actionable thermal results balancing efficiency and time-to-comfort for your design.
Influence of Materials
The materials used in your design are particularly important when working to create a more comfortable car/plane/building. Material properties influence the way heat transfers within the design, the heat capacity during transient scenarios, and the solar radiation that affects occupants through the glass. Our team of engineers is well-versed in simulating different materials and helping you understand the effects on comfort.
For example, glass is becoming a more influential factor as a design element in many vehicles and buildings. Consumers enjoy large sunroofs or natural light in their offices. However, the solar loading that occurs through different types of glass can affect comfort drastically. Understanding the perceived comfort during your scenario allows us to walk you through different options, such as changing the size or position of glazing, or choosing another material. 
Environmental Factors + Solar Loading
The environment your design will operate in is important too. The solar loading on a sunroof in Phoenix is very different from that in Chicago. The environment can also hinder the efficiency of comfort strategies and significantly impact time-to-comfort. Our simulation techniques can easily model outdoor conditions (including wind and moving solar effects) or controlled test chambers. To meet performance and comfort targets, we will help you design with the environment in mind.
HVAC
A properly-sized HVAC system is vital for efficiency. Traditional evaluation metrics for HVAC sizing (such as air temperature vs. time requirements) can over-estimate or under-estimate the capacity needed to meet comfort metrics. Using comfort as a simulation metric allows the HVAC size to be set based on the actual desired outcome of the system—occupant perception. Our engineers can help you determine how to size your HVAC system for energy consumption and the right time-to-comfort for your market.
Localized Heating + Cooling
Localized heating and cooling options, if done right, can help increase the efficiency of your comfort strategy. They also have the potential to increase the occupant's perceived comfort while maintaining energy usage. Our engineers can integrate localized heating and cooling systems into a variety of designs.
Human Sensation + Comfort
Many simulations can tell you if your system can efficiently reach 72 degrees Fahrenheit (a generalized performance metric). However, that does not always mean the occupant will be comfortable. We utilize advanced human thermal comfort and sensation simulation tools (including local and whole-body metrics from multiple models) to derive data that can truly help you make decisions to understand and improve the comfort of your customers. Our engineers can also verify the data with our human thermal comfort testing procedures (including manikin and human subject-based tests). Working alongside one of our engineers, you can know if your design will ensure your customers' comfort.
Preconditioning
An essential consideration for your customer's comfort is simulating their thermal history before they entered your car/plane/building. Modeling preconditioning helps you determine a more accurate time-to-comfort reading. We can run scenarios that predict comfort metrics for varying conditions at a speed that will fit your production schedule. These and other variations in the parameters of occupants (clothing, activity level, etc.) can all be included in our analysis process. How comfortable does that make you feel?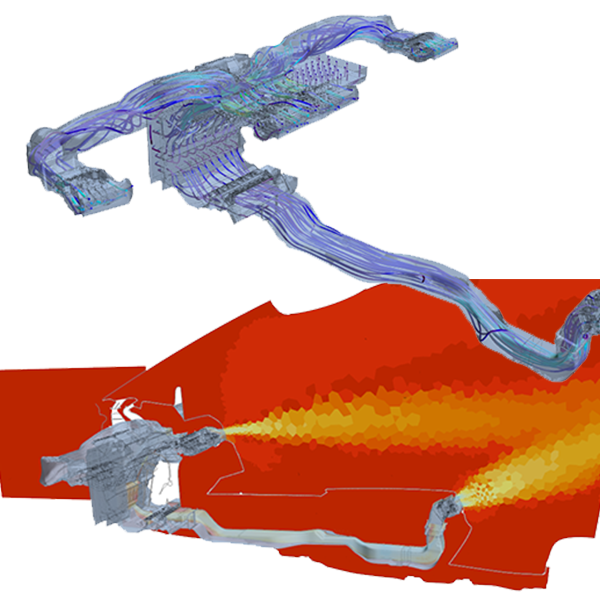 Controls Modeling
Cabin comfort system design is dependent on many vehicle sub-systems, and ultimately has the largest effect on the energy consumption and overall vehicle range in electrified vehicles. The design of the HVAC system affects the perceived quality, value, and performance of the overall vehicle. A designer should minimize the HVAC system energy usage while maximizing occupant comfort. Using simulation to understand controls modeling where the goal is to integrate 1D models to 3-D cabin comfort (HVAC Control Systems) allows you to simulate your way to efficient cabin comfort.

Developing and testing HVAC and cabin comfort controls includes fully integrated 3-D geometry, a human comfort model, active climate systems, and the energy impact of climate systems. ThermoAnalytics offers simulation engineers many solutions for cabin comfort system simulation, which leads to system integration success earlier in the design cycle.
The fastest way to reconfigure an inter-dependent system of components is to have a system-level model with simulated controls, and when the temperature is important a 3-D thermal analysis must be included in the process. Coupling 1-D system tools with TAITherm offers the ability to quickly solve for the 3-D structure temperatures using automated processes, providing higher accuracy for realistic cabin control designs, and reducing the effort of designing the overall system.

The ThermoAnalytics simulation solution empowers engineers to rapidly create high-fidelity and real-time capable models of conventional and electric-powered HVAC systems. Digital simulation with TAITherm and CoTherm offers a new way to evaluate climate system design and energy consumption together to ensure that potential issues with battery range, passenger comfort, or both, are resolved without costly rework and launch delays.
Thermal Comfort with Users in Mind
Let us help you create a thermal management strategy that increases energy efficiency and offers premium comfort to your customers.
You Might Also Be Interested In:
Getting Started
Let's talk
If you would like to learn more about our Cabin Comfort + HVAC Modeling service and how it can provide you with an actionable design direction, reach out! We will demonstrate how our software will fit your specific requirements and help you understand what you will need to begin simulating occupant comfort, safety, and effectiveness.
Support
We are here to work with you at every step. We support our customers throughout your service project with excellent communication; we are only a phone call or email away. Our commitment to you never changes.