With OEMs looking to reduce time-to-market, the ability to save time and resources during product development is crucial.

Traditional methods of designing, building, and testing physical prototypes are costly and time-consuming. Introducing simulation early lets you virtually test your designs for thermal management issues under real-world conditions.
Using TAIThermTM, our 3D thermal simulation software, you can quickly set up and run steady-state or transient simulations of a full-vehicle model or localized simulations (underhood, underbody, and cabin), with accurate results.
Execute More Design Iterations in Less Time
TAITherm delivers accurate heat transfer calculations with faster run times by leveraging smaller element counts and larger time steps. This enables you to run long, transient, 3D thermal simulations with relatively low computational costs and rapidly iterate to a final design. However, you have complete control over the fidelity of your model and the size of the time steps for your simulation.

For a more comprehensive thermal analysis, TAITherm can couple with your CFD code of choice to simulate the effects of fluid flow early in the design process.
Accelerate Your Packaging, Protection, and Integration Studies 
Different parts may be subject to various conduction and radiation heat sources, while being cooled through convection. With TAITherm, you can visualize how much energy each conduction or radiation pathway is contributing to your component. Then, you can easily locate the energy source and design an appropriate protection strategy by repositioning, adding heat shielding, or selecting new materials.

CFD software can simulate transient scenarios but requires more time and resources than you may have available early in your design process. Leaning on transient coupling using TAITherm with CFD blends the accuracy of CFD with the speed of TAITherm, so you can implement more design iterations in less time than using CFD alone.

Exhaust Simulation
Accurate thermal simulation of your exhaust system early can be challenging. CFD tools offer the most detailed results, but models are tedious to set up and run times can take weeks. With TAITherm and the Exhaust Extension, model setup is quick and easy (most exhaust systems can take as little as 10 minutes to set up), and its shorter run times reduce the burden on your computational resources, delivering the important results you need earlier.
Thermal Comfort Simulation with Human Comfort in Mind
Solar loading can lead to uncomfortable cabin temperatures. TAITherm accounts for direct, diffuse, and reflected solar loading and allows you to easily change properties like glass reflectance, glass thickness, or interior trim color to quickly compare different designs during a hot soak. TAITherm uses our library of geographic weather data to accurately calculate terrain temperatures (dirt, asphalt, concrete, foliage) and convection values using wind speed and direction to simulate environmental conditions anywhere on Earth. TAITherm is also capable of running thermal comfort simulations of climate chambers for validation cases performed in climate-controlled wind tunnels.

Devise your optimal HVAC design by minimizing the energy required to cool down or heat up the cabin. TAITherm, when coupled with CFD, allows you to quickly change glass properties, vent placement, or re-size the A/C compressor or heater core and study more design variants while accounting for 3D convection.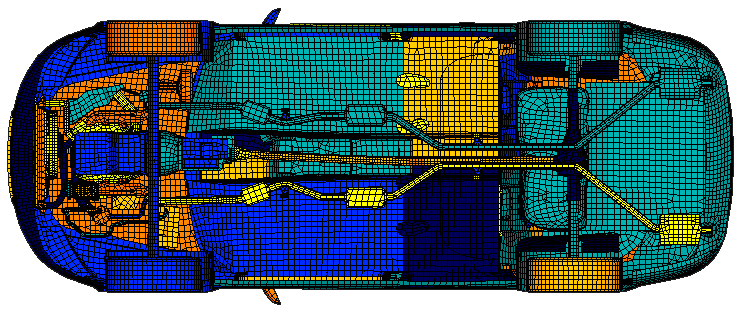 Lightweighting Studies
As lightweighting becomes more prevalent, the proximity of heat sources to temperature-sensitive materials adds to the complexity of thermal management. With TAITherm, you can change materials, thickness, and add or remove insulation layers easily using TAITherm's multi-layer part types. After simulating your model, you can make changes to your inputs without having to re-generate your mesh, allowing you to conduct multiple design studies and compare results in less time.
Reducing heat shielding is another way to cut overall vehicle weight, and with TAITherm you can quickly re-size, re-position, or remove your heat shielding completely and compare your results.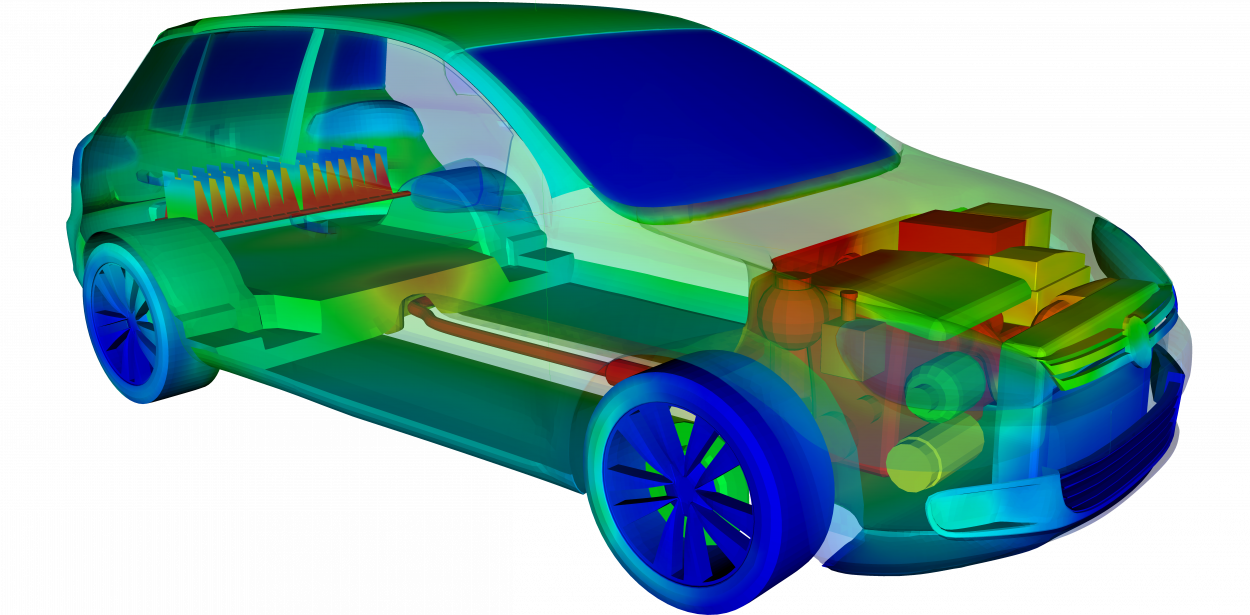 Electrification
Cabin comfort and energy efficiency of your electric vehicle (EV) can be optimized with TAITherm when coupled with our Human Thermal Extension. Simulate how localized heating and cooling systems can be combined with the HVAC system to maximize cabin comfort and EV range.
Simulate battery lifetime and safety implications using TAITherm and the Battery Extension. Perform a thermal analysis at the cell level or pack level and receive clarity on the proper packaging and cooling strategies.
Getting Started
Let's Talk
If you would like to learn more about our automotive large-scale simulation capabilities, let's talk! We will demonstrate how our software can fit your requirements and help you understand what you will need to simulate your thermal management strategy.

We are here to work with you at every step. We support our customers throughout your service project with excellent communication; we are only a phone call or email away. Our commitment to you never changes.
Support
We are here to answer your questions at every step. We support our customers before and after the contract is signed, our commitment to you never changes.